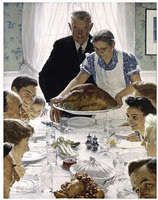 This brings you best wishes on Thanksgiving with a couple of favorite old radio segments from The Internet Archive.
From a 1951 CBS Radio Broadcast of Life With Luigi, it's Luigi's Thanksgiving Dinner for America. Also, from Armed Forces Radio Service, it's the 1944 Thanksgiving special on Command Performance.
Life With Luigi starred J. Carrol Naish as "the little immigrant" Luigi Basco. Each episode was framed as a letter from his new home in Chicago back to his mama in Italy. The program aired on CBS Radio in the late 40s and early 50s until the move to television in 1952. In this episode, Luigi makes plans to invite all of America to his house for the Thanksgiving celebration. Originally broadcast on November 22, 1949, click here for the MP3.
The episode of Command Performance was broadcast to U.S. troops serving in WW II during Thanksgiving of 1944. Lionel Barrymore hosts, Dinah Shore sings and there's a Baby Snooks sketch with Fanny Brice. The program also features the orchestra of Percy Faith. Click here for that MP3 download.
Also, as we enjoy the comfort of our homes, the company of our families and a festive meal this holiday, let's not forget those who are unable to do so. I would encourage donations to the USO and to Catholic Charities.
God bless you and your family this Thanksgiving!
Links