husband . papa . writer . trippy recovering catholic cowpunk . bhakta . tarot reader . certified meditation teacher . socialist . media hacker . union proud . he/him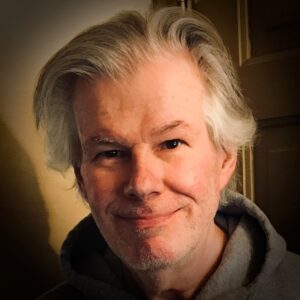 Brian Noe is a writer, folk singer and new media producer who lives at the southern terminus of the Chicago Southland – Kankakee, Illinois, USA.
He began a career in broadcasting at the age of 16, worked as a professional do-gooder for several decades, and then returned to the microphone in February 2005 when he produced the first episode of Verbum Domini.
Brian has produced and hosted several Internet radio programs, including The Frank Truth, a weekly show about Frank Sinatra which aired nationally for a time on Sirius Satellite Radio. His writing has been seen in the pages of national magazines, and on this weblog.
Always a bit of an odd duck, in 2011 he became increasingly alarmed and dissatisfied with the direction his country was headed. He joined the Wobblies and rebooted his consciousness. He was, for a time, a member of the Democratic Socialists of America and is still a dues paying member in good standing of the National Writers Union.
Brian is married to the love of his life, Claudia. He serves as a bad example for his sons, Thomas and James, and spends endless hours watching Doctor Who with his daughter, Caroline.
In the wake of Pete Seeger's passing, he decided to make some productive use of his musical background and established the Key City Singalong. He was an artist in residence at Feed Arts Center where the monthly gatherings were held.
Beginning in early 2019, Brian began reading Tarot, and it took him on an incredible journey toward better health, well-being and joy. He is now a daily meditator and bhakta. His current obsession is singing kirtan and promoting it in his community.
Brian earned a B.A. in American Studies and English way back in 1977 from Millikin University. To this day he still ponders America and still speaks English.
More Information: