In this second article in our series explaining socialism to kids, we take a look at a key concept for many socialists, particularly Marxists. What is "the working class?"
You've probably heard the words "working class" being used on the news lately. Especially during an election year, people will talk a lot about "working class voters." Or sometimes you'll hear them say something about a "working class neighborhood."
Here in the United States, people think of the working class as folks who do factory work. Or sometimes they mean someone who works in a job that doesn't pay very much, or one that doesn't require a lot of education, or maybe one that involves a lot of hard physical work.
There's another meaning of "working class" though, that's really important to socialists. Socialists believe that this special classification of people are the ones who can transform society and lead the world to freedom and equality.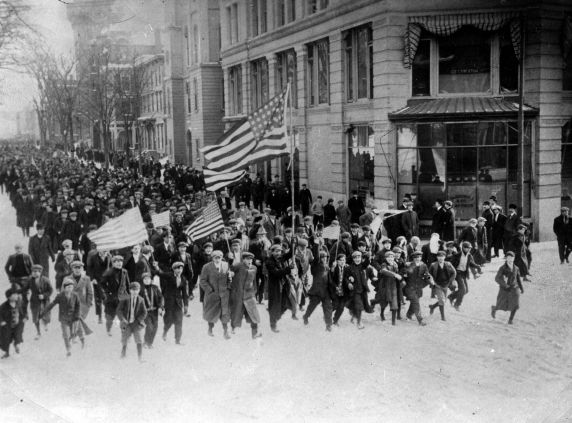 Who is the working class?
In order to make the things that we need for our lives, two things are required. They are labor power and the "means of production." Labor power is the ability of a worker to do something. It could be making a sandwich or driving a school bus or writing computer code, or anything else that workers do. The "means of production" is everything the worker needs in order to do the job. In a sandwich shop, means of production would be things like the building, the ingredients, the cash register, tables and chairs – everything needed in order to prepare and sell and serve the meal so the customer can eat it.
Under our capitalist economic system, a pretty small percentage of people own these means of production. They are called owners, or bosses or "the ruling class." All of the rest of us, who don't own the means of production and must sell our labor power to the bosses so we can earn money to live, are in the working class.
It doesn't matter what type of work a person does, or how much money she makes. If she doesn't control the means of production, she is part of the working class.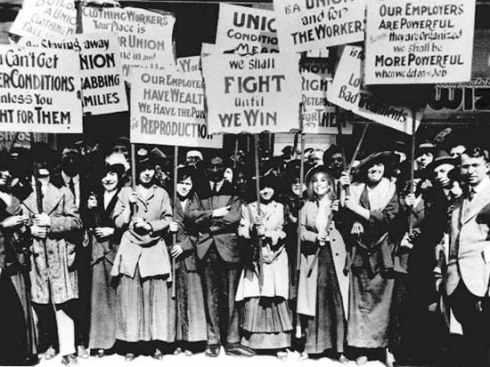 Why is the working class important to socialists?
Working class people can have it pretty rough. We have to show up when the owners want us to show up. We have to do what we're told. If we don't, we might be fired from the job and not have money to buy the things we need in order to live. For a lot of workers, it's a struggle every day to keep our jobs and earn enough to survive. It's especially hard for people with limited education and skills, for single parents, or for anyone with extra challenges in their lives. Lots of times people have to choose between taking care of important things at home, and doing what they have to do to keep their jobs.
It seems like the bosses sort of have us in a bad situation. Since they own the means of production, they can order us around and we pretty much have to do what they say. Some owners (or the managers they hire) are nice people, and try to treat their workers with kindness and respect. Still, the worker always knows that he has to do what the boss says or he might lose the job.
So, how can a group of people like the working class, who seem so powerless, be the ones to transform society? If we have to do what the bosses say, how can we possibly lead anyone to a better world? It's because the working class has a secret super power. The power is called solidarity.
Although an individual worker may be powerless to defy the owners, when workers stand together in solidarity, they can change the world. The ruling (owning) class is so small, that they can't possibly do the work themselves. Without the workers, no work gets done.
When workers decide together to stay off the job until their demands are met, it's called "going on strike."
Think of your favorite sandwich shop. If all of the workers decided not to show up to work, there would be nobody there to make the meals, to clean the tables, or to take the orders.
Or think about an owner of a bus company. She would be sitting alone in a parking lot full of empty busses if the drivers decided not to come to work. Without the working class, everything in society stops.
So when workers stand together in solidarity, they can show the bosses that it's really the workers who have all the power – in the workplace and in society. But it's only when they stand together as one that this becomes the truth.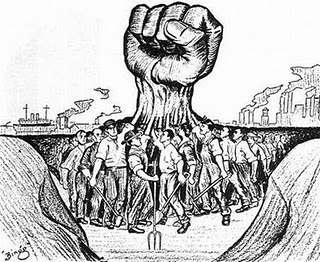 What can solidarity do?
When workers join unions, and stand in solidarity together to make demands, they can get the bosses to pay attention and give in. In fact, before the struggles of unions in the early 1900s, people sometimes had to work fourteen hours a day or more, six or seven days a week. Workers formed unions and went on strike to demand an eight-hour work day. Later, they demanded higher wages, and benefits, such as vacations and health insurance and days off when they're sick. These things that so many of us enjoy and take for granted today were not given by the owners simply because they wanted to be nice. They were won by the workers who stuck together and demanded them.
Workers can demand and win things like better hours, better working conditions and higher wages for their own jobs. But they can also work in solidarity to make a better society for everyone. Unions have fought for things like an end to child labor, laws regulating workplace safety, a minimum wage for all workers (even ones not in unions), Social Security benefits for retired workers, and so much more.
Working Class Solidarity for a Better World
For socialists, the goal is a society where we do away with the ruling class owners altogether. In a socialist society, the workers would control the means of production, and would share in all the decisions about what to produce and how the work should be done. There wouldn't be an owner to boss people around. We would rule ourselves in fairness and equality. We would do this because we're all in the same boat. In the words of the Wobblies (a union that started more than a hundred years ago) "an injury to one is an injury to all." We would all stand up together in solidarity for a just and equal share of society's bounty and an equal say in society's decisions.
So yes, my dear. We are a working class family, and proud of it. It's up to us to always show our solidarity with other workers, and to fight together with them for a better life for all of us.
In the words of the famous socialist and philosopher Karl Marx "Workers of the world, unite. You have nothing to lose but your chains!"