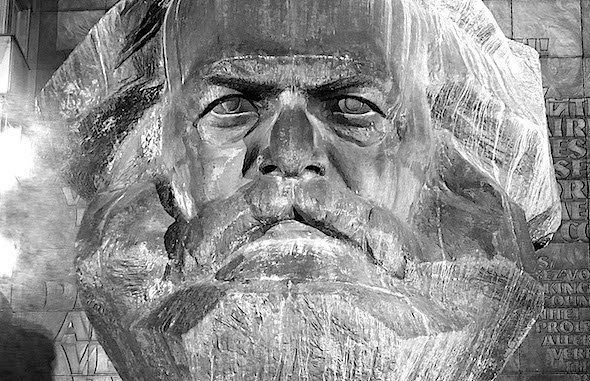 At the Left Forum in New York City on May 30th, Chris Hedges opened a discussion of why Karl Marx is essential at a time when global capitalism is collapsing.
The final stages of capitalism, Marx wrote, would be marked by developments that are intimately familiar to most of us. Unable to expand and generate profits at past levels, the capitalist system would begin to consume the structures that sustained it. It would prey upon, in the name of austerity, the working class and the poor, driving them ever deeper into debt and poverty and diminishing the capacity of the state to serve the needs of ordinary citizens. It would, as it has, increasingly relocate jobs, including both manufacturing and professional positions, to countries with cheap pools of laborers. Industries would mechanize their workplaces. This would trigger an economic assault on not only the working class but the middle class—the bulwark of a capitalist system—that would be disguised by the imposition of massive personal debt as incomes declined or remained stagnant. Politics would in the late stages of capitalism become subordinate to economics, leading to political parties hollowed out of any real political content and abjectly subservient to the dictates and money of global capitalism.

But as Marx warned, there is a limit to an economy built on scaffolding of debt expansion. There comes a moment, Marx knew, when there would be no new markets available and no new pools of people who could take on more debt. This is what happened with the subprime mortgage crisis. Once the banks cannot conjure up new subprime borrowers, the scheme falls apart and the system crashes.
Read the Remarks in Full: Chris Hedges: Karl Marx Was Right – Chris Hedges – Truthdig