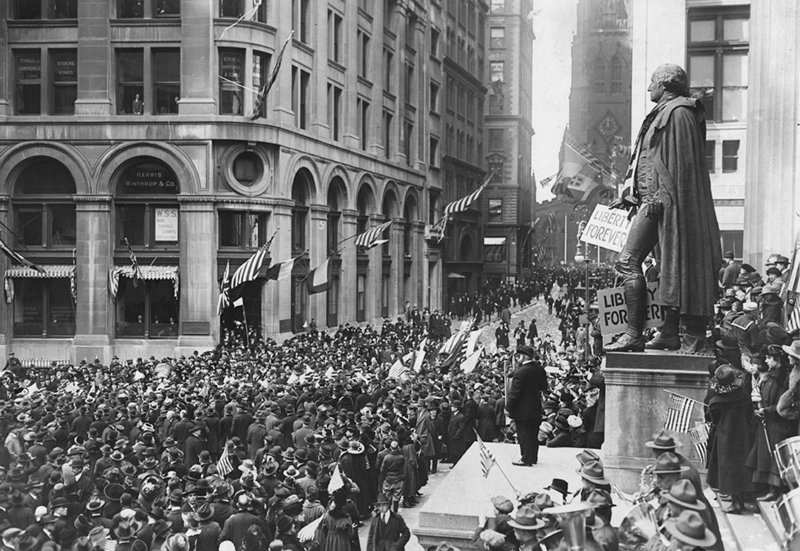 At 11 AM on 11 November 1918 the Allied Powers signed a ceasefire agreement with Germany at Rethondes, France, bringing to an end "The War To End All Wars." There were prayers of thanksgiving and celebrations in the streets of major cities around the world.
One year later on 11 November 1919 President Woodrow Wilson proclaimed the first Armistice Day observance with these words.
To us in America, the reflections of Armistice Day will be filled with solemn pride in the heroism of those who died in the country's service and with gratitude for the victory, both because of the thing from which it has freed us and because of the opportunity it has given America to show her sympathy with peace and justice in the councils of the nations.
In 1938, the United States Congress made November 11th a legal holiday "to be dedicated to the cause of world peace and to be thereafter celebrated and known as 'Armistice Day'."
Sadly, "The Great War" (as it was called before we had cause to number them) would not be the last. In 1954, the observance was officially renamed "Veterans Day" to honor those – both living and dead – who served in other conflicts as well.
My mother was born on May 25th of 1918, and she sometimes quipped that the nations of the world "saw that baby coming and figured they had better get things straightened out." She also taught me from a very young age to observe a moment of silence with her at 11 AM on Veterans Day, and so it has been my lifelong habit to pray for peace at the 11th hour of the 11th day of the eleventh month.
Whenever I encounter a veteran (as evidenced by a ball cap or t-shirt or jacket noting their service) or a member of our current military, I take the opportunity to say "Thank you for your service." Since many were not greeted warmly upon their return, if he or she is a Vietnam Veteran I'll also say "Welcome home." I am truly grateful for the sacrifices made by those who have served and by their families, regardless of the nature of the conflict during which they served.
I am also saddened by the fact that we live in a world in which violence is still accepted as a way to resolve things. I do not believe that it must be that way. I do not believe that it ought.
This year as we remember and honor those who have served, let us also pray for peace and justice on Earth. Let us work throughout the coming year with peace and justice as our goals. That seems to me an obligation we owe to those who have made the ultimate sacrifice.
###
This post is dedicated to Wallace Malcolm Hirstein, who served his country with valor and distinction in General Patton's Army during World War II. I miss you, pal.