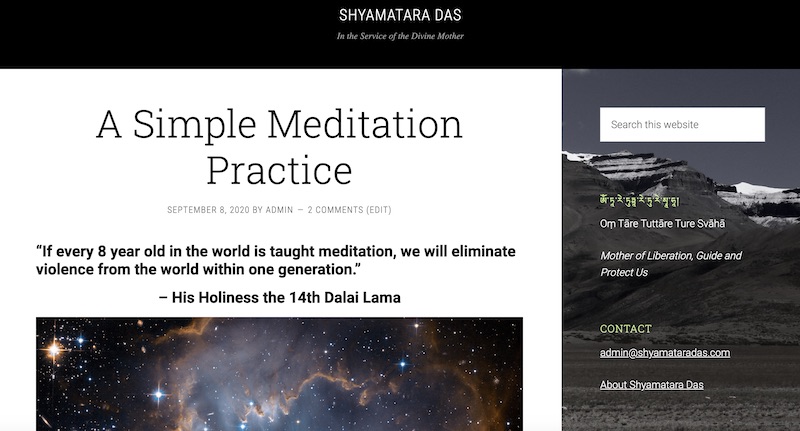 As you may have seen in earlier posts here, I began a daily meditation practice in  the Spring of 2019, and it has changed my life dramatically. In July of 2020, I had a sudden realization that the good things coming into my life were the fruit of seeds that had been planted decades ago, and that my life belonged to a particular spiritual lineage. This lineage has found expression in my life and practices most often over the years in the form of Marian Devotion.
I have also had an attraction, for decades now, toward the Tibetan Buddhist lineage of His Holiness The Dalai Lama. I have borne a tattoo of the mantra "Om Mani Padme Hum" on my arm for many years. I knew the literal translation ("I Bow to the Jewel in the Lotus Blossom"), but had very little understanding of its deeper meaning or significance.
In July, I came to learn about the Compassionate Bodhisattva Avalokiteshvara, to whom the Om Mani mantra belongs. I learned the story about him shedding a single tear, which became a pond, from which bloomed a lotus, from which emerged the Green Tara – Mother of all Buddhas, Guiding Star, Guardian of Souls, Compassionate Liberator. Behold, the Jewel in the Lotus!
One of Mary's titles is "Stella Maris" or "Star of the Sea." Compassionate Mother, Guiding Star. Does any of this sound familiar?
I took the name Shyamatara Das, as a way to honor this lineage, in all of its expressions, Buddhist, Hindu, Christian and beyond.
As I began to write about my experiences with spiritual practice, I realized that it might be helpful to gather some of the essays and resources into a website entirely devoted to such topics. In September, I created the first post at ShyamataraDas.com, noting that the site is a vehicle for sharing "thoughts, spiritual practices, techniques and resources for living a full, beautiful life." It will include material on a wide range of topics: service, bhakti, meditation, plant-based cooking and more.
I hope that you will find something of interest there.