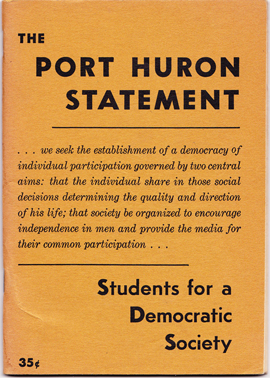 The Port Huron Statement was completed fifty years ago today. It remains a visionary document, and a call to continue the unfinished work of my generation.
Let us rededicate ourselves to this work, so that The Psalmist's words may be true:
"Justice shall flourish in those days, a profound peace from sea to sea and to the ends of the earth."
Another world is possible.
★ ★ ★
Full Text of The Port Huron Statement
What The Port Huron Statement Still Has To Say – Commentary from Tom Hayden
Earlier Posts on Port Huron:
The Port Huron Statement at 50
More On The Port Huron Statement at 50