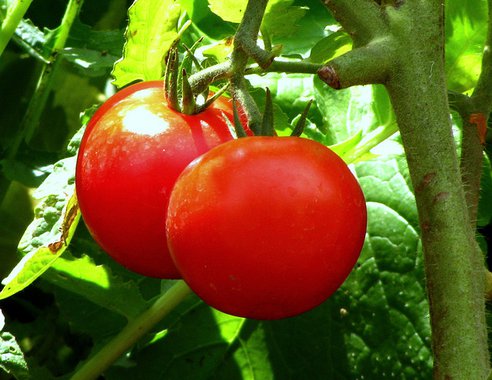 There's nothing like stepping out back and picking a beautiful, ripe homegrown tomato for a BLT, a salad or simply for slicing and serving with a little seasoned salt. I started planting tomatoes in huge terra cotta pots more than a decade ago when I didn't have diggable space in a decent, sunny location for a garden, and the habit stuck. I've always loved the first tomato of the season. No matter how fresh they are from the farmers' market, they're never quite as tasty as the ones you grow yourself.
Colleen Vanderlinden over on Treehugger has a wonderful post about ten tomato varieties that do well in containers. The Black Krims sound particularly tasty.
I first ran across Colleen's article on the Occupy Monsanto blog. The more I learn, the more I realize that some of the most simple and pleasant everyday things we do – like choosing to grow heirloom tomatoes in pots – can be powerful political acts as well. For me, that makes such things all the more satisfying.
I'm hoping it won't be too late to plant a few pots after our move next month.
A word of caution to those who want to grow container tomatoes on an upstairs balcony. Be careful where you set them. Remember that Tommy Ewell nearly got killed by Marilyn Monroe's falling tomato plant in The Seven Year Itch. 🙂
P.S. Here's another interesting article on best practices for pruning tomatoes.