The Spanish People Strike Against Austerity and Attacks on Labor
Coming Soon to a Country Near You!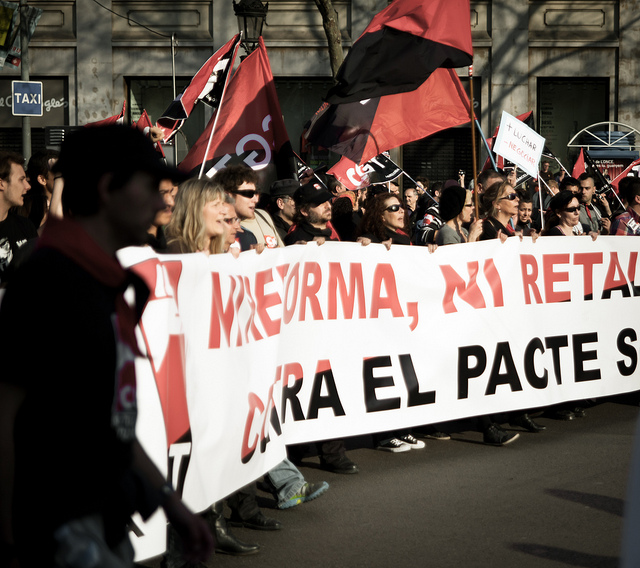 Spain Hobbled by General Strike. [NYTimes.com] – Heavy industry and large parts of the transportation network were disrupted on Thursday by Spain's first general strike since the Popular Party of Prime Minister Mariano Rajoy came to power late last year.
The strike was called by Spain's two main trade unions to protest a recent overhaul of labor rules that makes it less costly for employers to hire and fire workers. It came on the eve of Mr. Rajoy's presentation of Spain's 2012 budget, which is expected to contain about €20 billion, or $26 billion, in additional spending cuts and tax increases to help Spain meet deficit targets it agreed to with the European Commission.
Millions Join General Strike in Spain. [WSWS] – Yesterday's general strike against new labour laws imposed by the right-wing Popular Party government was backed by millions.
The two main union federations, the Socialist Party (PSOE)-aligned General Workers Union (Union General de Trabajadores, UGT), and the Communist Party (PCE)-led Workers Commissions (Comisiones Obreras, CC.OO) estimated that the stoppages were supported by 77-80 percent of the workforce. Many more people, unemployed, school children, housewives and students used it as a vehicle to protest government cuts and austerity measures.
Mass stoppages took place in industry, transport and services. The walkout hit road, rail and air service with barely any domestic or European flights in operation.